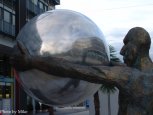 Welcome to Mike's Personal Web Space
The first time I put something of my own on the web was in 1996. That seems ages ago. I still had a PC running Windows 3.1 on a 486 processor and the first HTML pages I made had file names like INDEX.HTM (shudder).
A lot has changed since then. Windows 3.1 is just a dimly remembered nightmare and filenames in all capital letters are definitely out as are images in BMP format and floppy discs. The Internet brought us Linux, Jpeg, PHP, Flickr and MySpace, to name just a few. But the most important change that has happened and is still happening occurred in the field of social interactions. How many friends do you have who don't have e-mail? How many text messages do you send every day? Have you ever dated someone you met in a chat room? Is your profile online? Can people contact you electronically even if you are on vacation abroad? Do you send MMS or paper postcards? The questions could go on and on. The New Economy bubble is a thing of the past but the Internet revolution is still in its early stages. There is much more to come.
Today, ten years after I put my first Under Construction icon on my web site, I'm still present in cyberspace and trying to keep up with what's going on. And I really wonder what the world will look like in ten years from now.